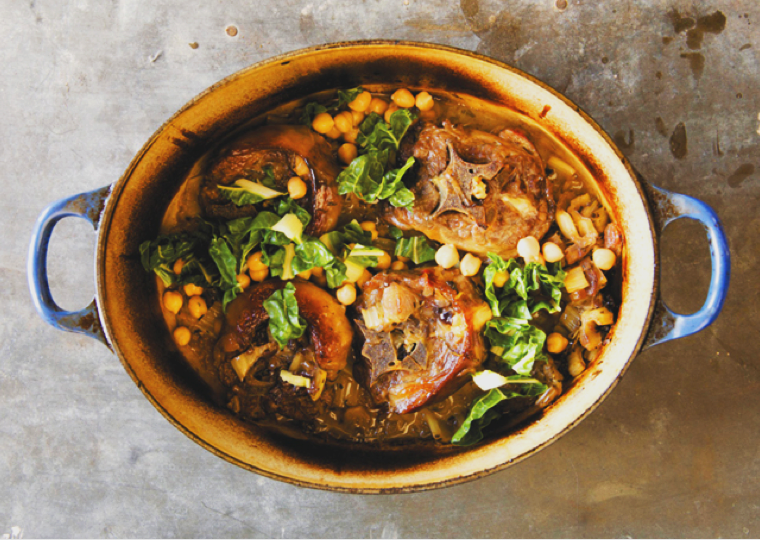 Collar of lamb with chickpeas and silverbeet
2kg thick-cut lamb neck chops
1 cup chicken stock
300g dried chickpeas, soaked for 8 hours
in cold water, drained and rinsed
2 red onions, finely diced
4 cloves garlic, finely sliced
1 tspn finely chopped rosemary leave
6 anchovy fillets
1/2 bunch silverbeet, stalks and leaves separated
2 cups white wine
1. Season the lamb neck chops well then brown in batches in oil. Place in a casserole or other heavy ovenproof vessel with a lid. Scrape any remains from pan into the casserole along with chickpeas.
2. Fry onions, garlic and rosemary until soft and slightly coloured. Add anchovies. Break them up with the back of a spoon and add this mixture to the casserole.
3. Cut the silverbeet stalks into 3cm chunks and add to the casserole along with the wine, and remaining stock. Season well and cover. Cook in 160°C oven for 2 hours. Check liquid levels throughout cooking and add more stock if required.
4. Wash and finely slice silverbeet leaves and mix into casserole 20 minutes before lamb is cooked.
From Chef's Special #70
Produced by Fleischmeister Connaugh Sheehan at the Meat and Livestock Assocation
Photo credit: John Laurie w.johnlauriephoto.com
Food styling: Simon Bajada  w.simonbajada.com
Design credit for Chef's Special: MASH w.mashdesign.com.au  Their aesthetic for the Chef's Special series is the most refreshingly original graphic design I have seen in an age. They're Adelaide based and a cracking outfit.